LETTER | Today marks the 14th anniversary of the Hindraf rally, which took place on November 25, 2007. It was the day that changed the history of Malaysian Indians and shook the political foundation / landscape of the nation.
The mega rally organized by Hindraf's "Original Five" became a huge success highlighting the plight of Indians in Malaysia. I proudly hit my chest to say that I was one of them and still stand up for my community.
Racial discrimination, religious intolerance, the inequitable share of the nation's wealth and the unfair treatment of Indians in Malaysia prompted people to join the rally to show their displeasure with the ruling government in the era.
Sadly, Malaysia, which has never seen mega-gatherings like this one, has not acted in a civilized manner to ensure that the issues raised by Hindraf are addressed.
Instead of listening to our demands, the government used tear gas and water cannons on its own citizens who gathered in the city center for a peaceful rally. Additionally, hundreds of people who joined the rally were arrested and charged in court for making their lives miserable.
On top of that, Hindraf's top five leaders were arrested under the Internal Security Act (ISA), a draconian law used by the government to quell any dissent against the government. We were taken to the ISA detention camp in Kamunting, Perak, where we all suffered different types of psychological torture by the authorities.
You couldn't even imagine the ordeals I had to go through in the detention camp. My wife had a hard time looking after my family after I was detained under ISA.
Fear, grief and a dark future ran through my mind. My children have been separated from their father. I left my daughters, one was two years old and the other three months old, with my wife. My family suffered during my one and a half year (495 days) detention.
Along with the other four leaders, I graciously accepted our detention just to ensure that our Indian brothers and sisters can live in peace in this country with dignity. The happiness of our families has been compromised just to wake up our Malaysian Indian compatriots. Our lives would not be the same if the Hindraf rally did not take place.
The rally left a huge impact on the people and on the political system. A new political coalition has emerged to fight the corrupt BN regime. Hindraf reinforced this coalition. The temple demolitions were stopped and the government began to deal with Indian issues one by one.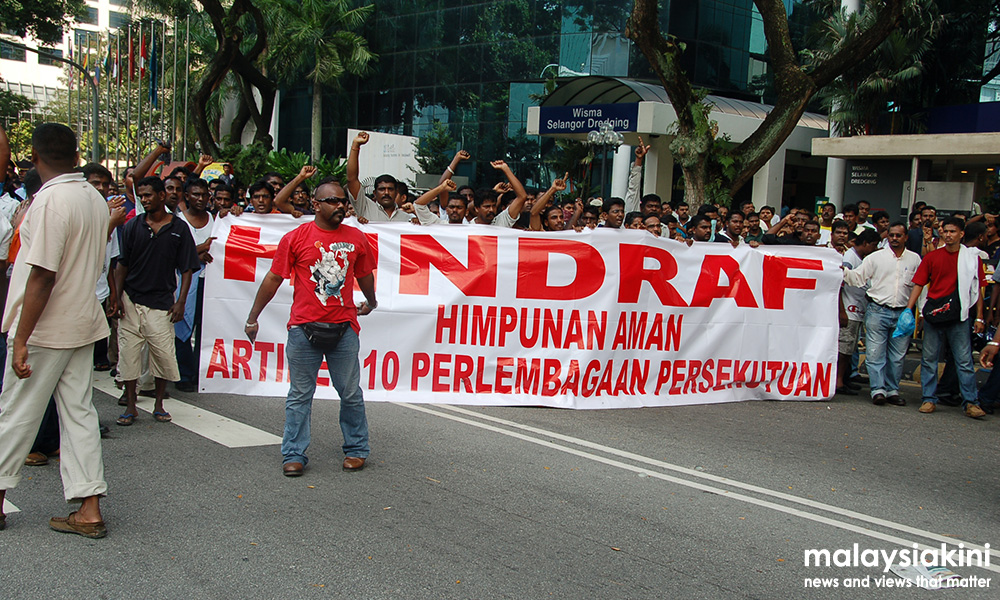 Education, civil service and business quotas have been improved. A special unit for Indians under the Ministry of the Prime Minister has been created. Tekun Nasional loans and business permits / licenses were issued to Indians.
Many Indian politicians from opposition parties won the elections in 2008 and many Indian deputies and assembly members of the ruling government also quarreled. For the first time in history, a two-thirds majority was also denied to the BN government.
Also for the first time in the country's history, Indian voices and their issues were heard aloud in Parliament. Today many MPs, including Malaysians, are expressing their support by raising many issues affecting non-Malaysians, especially issues related to Indians. It is an undeniable fact that Hindraf was one of the main factors in these changes.
Nevertheless, much remains to be done and changed to ensure that Indian rights are always protected. This is to ensure that these privileges are continuously available in a sustainable manner.
Birth and CI certificates, religious freedom, education, political power are some areas that we still need to improve for our future generations. For these reasons, I made the decision to become part of the political system by becoming a politician who aspires to bring about the change that Hindraf envisioned.
I continue this journey with my comrades who have always been by my side since the day I was detained. Lots of people come and go, but real fighters are always with me.
Sadly, there are still chameleons among the community who question my struggles and contributions. If possible, join me in creating a better nation for our children. If you can't, please withdraw!
To all my comrades, remember that the fight is still in place. The Hindraf fire is still burning in us. Even though the name Hindraf was banned immediately after this rally, I decided to continue the struggles and fight against discrimination and marginalization of the Indian community with my comrades under a different banner – the Malaysian Indian Voice (MIV). Therefore, Hindraf lives in MIV.
---
GANABATIRAU VERAMAN is the Executive Advisor of Selangor State for Socio-Economic Empowerment, Development and Benevolent Government. He is also the DAP assembler for Kota Kemuning.
The views expressed here are those of the author / contributor and do not necessarily represent those of Malaysiakini.